Back
Electrocoin
Electrocoin is the leading Croatian fintech, specialized in crypto currency brokerage and crypto-payment processing. Over the years, it has built a reputation as a leading crypto expert in the Croatian market and developed two key products – Bitcoin Exchange and the PayCek platform for processing crypto currencies.
Although Electrocoin was ranked as the 6th fastest growing tech company in Central Europe, their visual identity did not reflect their expertise and advanced technology. Our task was to create a strong story, strengthen the connection between the brands in the portfolio and modernize Electrocoin's visual identity in order to achieve a stronger position for the brand in the European market.
We have united the key strengths of Electrocoin – leading experts who know everything about crypto, available 24/7 stellar support, simplicity and the guiding principle of a "minimum number of clicks" in the development of all Electrocoin's products. Our key insight "There's nothing cryptic about crypto" became the backbone of the new brand story. We believe that there is nothing cryptic about crypto. It should be simple, transparent and easy to use. If you can trade or pay with crypto without any complications or extra steps, why wouldn't you?
We have defined a Branded House as the new brand architecture model, to ensure a stronger connection of the brands in the portfolio with the lead brand being Electrocoin. Electrocoin Trade is now the name of their crypto currency-trading platform, while Electrocoin Pay is the new name of the crypto payment processing system.
The new contemporary visual identity is the work of art director Damir Mazinjanin. The logotype was created by modifying the Cy SemiBold typography and constructing the sign using the symbol ø. The universal meaning of the symbol ø is diameter, but in the context of the brand, the symbol represents the monogram (ec), as well as the globe and crypto currency. In combination with the modified letter "i" from the sign, it also represents the binary code that serves as the backbone of blockchain technology. The logo is accompanied with striking illustrations that contribute to Eletrocoin's advanced and high-tech image.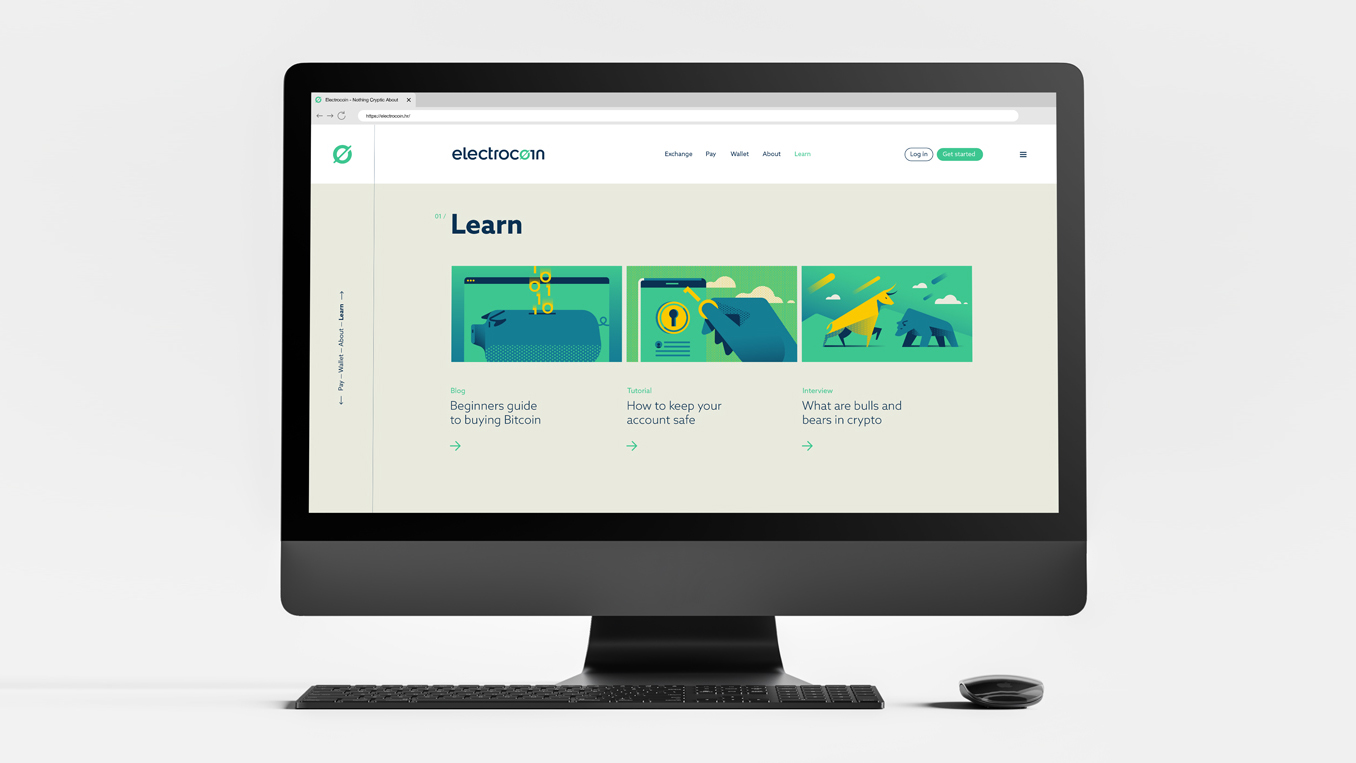 Brand Strategy & Creative Director: Anja Bauer
Senior Brand Consultant: Petra Despot Domljanović
Copywriter: Anja Bauer
Senior Brand Implementor: Jelena Mezga
Art Director, Designer: Damir Mazinjanin
Ilustrator: Damir Mazinjanin