Back
Rajska
We have rebranded Zarja, the largest tomato producer in Croatia, and created the new name Rajska as well as the new visual identity.
Since 2000, Zarja had been producing cherry, shake and cocktail varieties of tomatoes in Kerestinec, near the town Sveta Nedelja, by using modern hydroponic cultivation methods that utilize protected greenhouses. Here the tomatoes can grow under controlled conditions without the use of pesticides and herbicides. Although they were recognized for their black premium packaging and product quality, and our task was to show to the consumers the unique characteristics of this brand.
Therefore, the key goal of our rebranding strategy was to create a unique brand philosophy that would inspire and naturally show the benefits of this kind of cultivation in relation to traditional methods, and further strengthen the brand by associating it with premium quality and distinctly tasty tomatoes.
Through extensive market analysis, we came to the conclusion that the key strengths of the brand are its local origin from Sveta Nedelja, its completely natural cultivation process that does not use any harmful chemicals. This cultivation process involves more than 10,000 bumblebees that naturally pollinate the plants tended to by dedicated employees. The backbone of our new brand story is to unite exactly these brand strengths:
"The tomatoes grow up in paradise, they are so lovable and joyful they remind us of good, patient mothers. They come from Sveta Nedelja, from paradise, where people together with nature have created a miracle. Sveta Nedelja is home to tens of thousands of bumblebees that pollenate all of these wonderful plants, which begin their life as a yellow flower and become red tomatoes that provide us with happiness and health. Our tomatoes grow nicely without spraying any chemicals. People, bumblebees and the sun take care of them.
Our Rajska tomatoes burst at first bite, and their scent takes you back to those long, warm, carefree summers.
Each encounter with out tomatoes is rewarding, the love and work that goes into growing and cultivating them is felt in every detail, from their look to their smell, to their succulent, distinct taste.
Our tomatoes are loved all over the region, from Murska Sobota and Subotica to our beautiful Sveta Nedelja.
Sveta Nedelja's heavenly tomatoes are healthy, very good for the heart and skin, and get you in a good mood, you'll love them the instant you try them."
The new brand was renamed Rajska, which means "from paradise" in Croatian, but also refers to tomatoes as the word in Croatian for tomato is rajčica. Additionally, these heavenly tomatoes originate around the town Sveta Nedelja, a name that has heavenly connotations in Croatia as it contains both the words for saint and Sunday. The word tomato in Croatian is derived from the word paradise and translated by the German word "Paradiesapfel," which literally means "apple of paradise." Moreover in ancient Greek we have the word "paradeous," which means an"indoor garden; paradise."
During our brainstorming session in one of the beautiful greenhouses, the scent of the tomatoes caused us to return to the feeling of long and warm summers. That experience inspired us to create the slogan: "Scent of summer, taste of paradise."
The concept of Rajska's visual identity is based on the insights derived from the brand strategy and intertwines elements from the traditional folk costumes in Sveta Nedelje with bumblebee and tomato motifs. We developed packages for 6 products, as well as the packaging for transport, presenting a very natural and striking design that now completely differentiates Rajska's tomatoes in the market.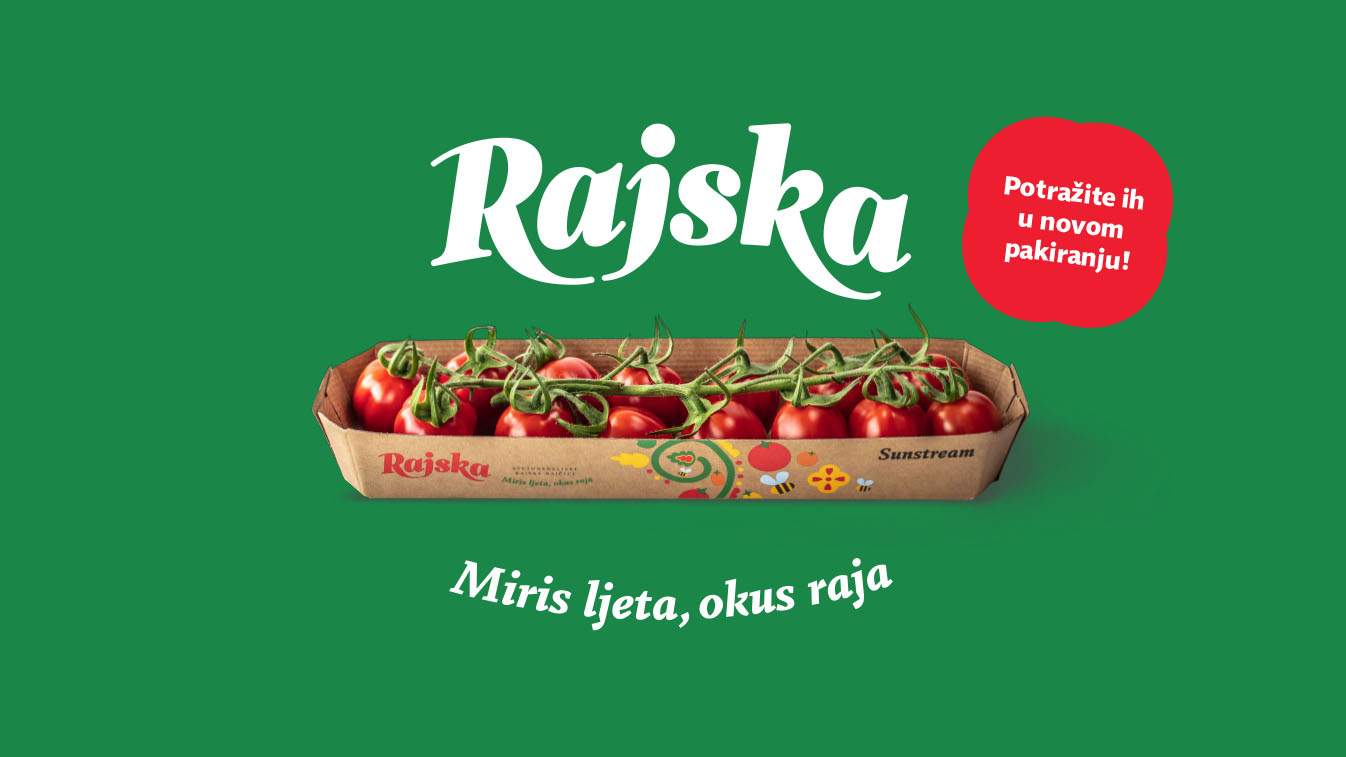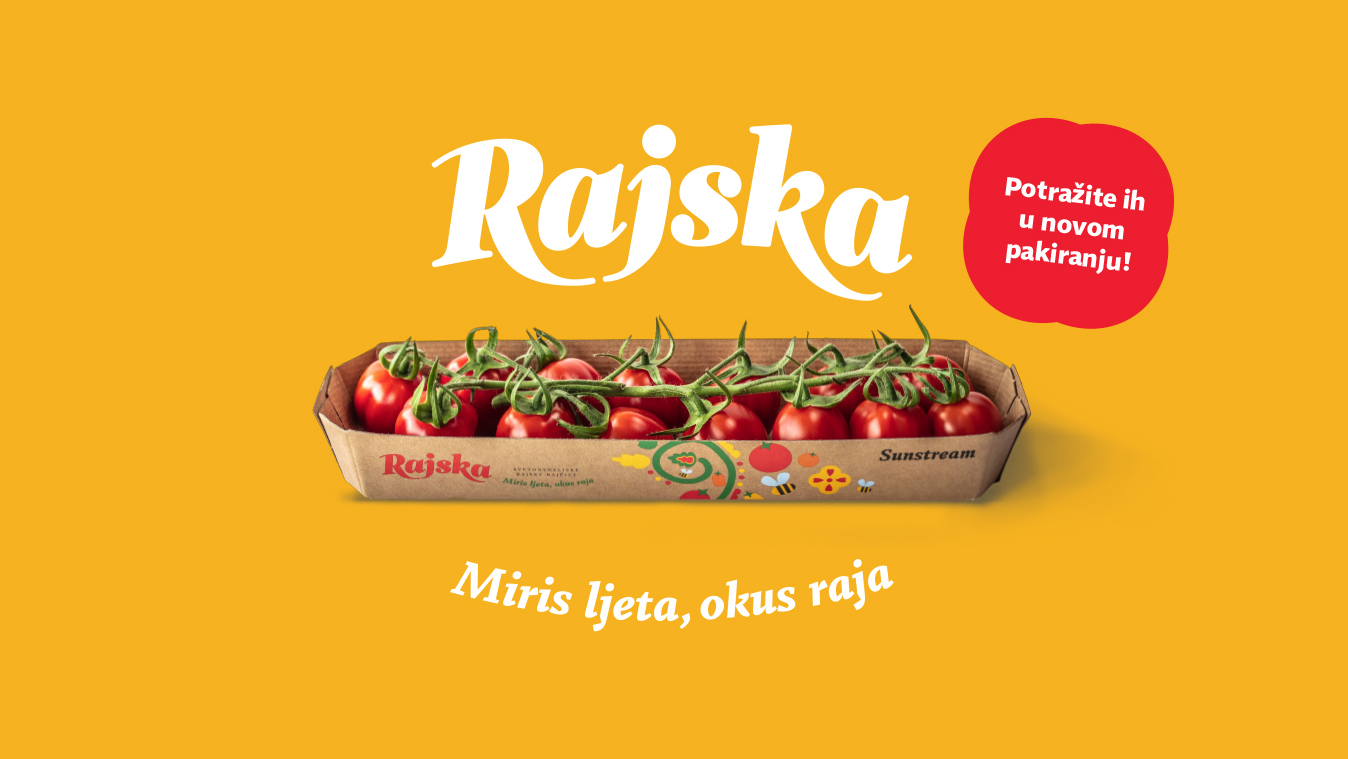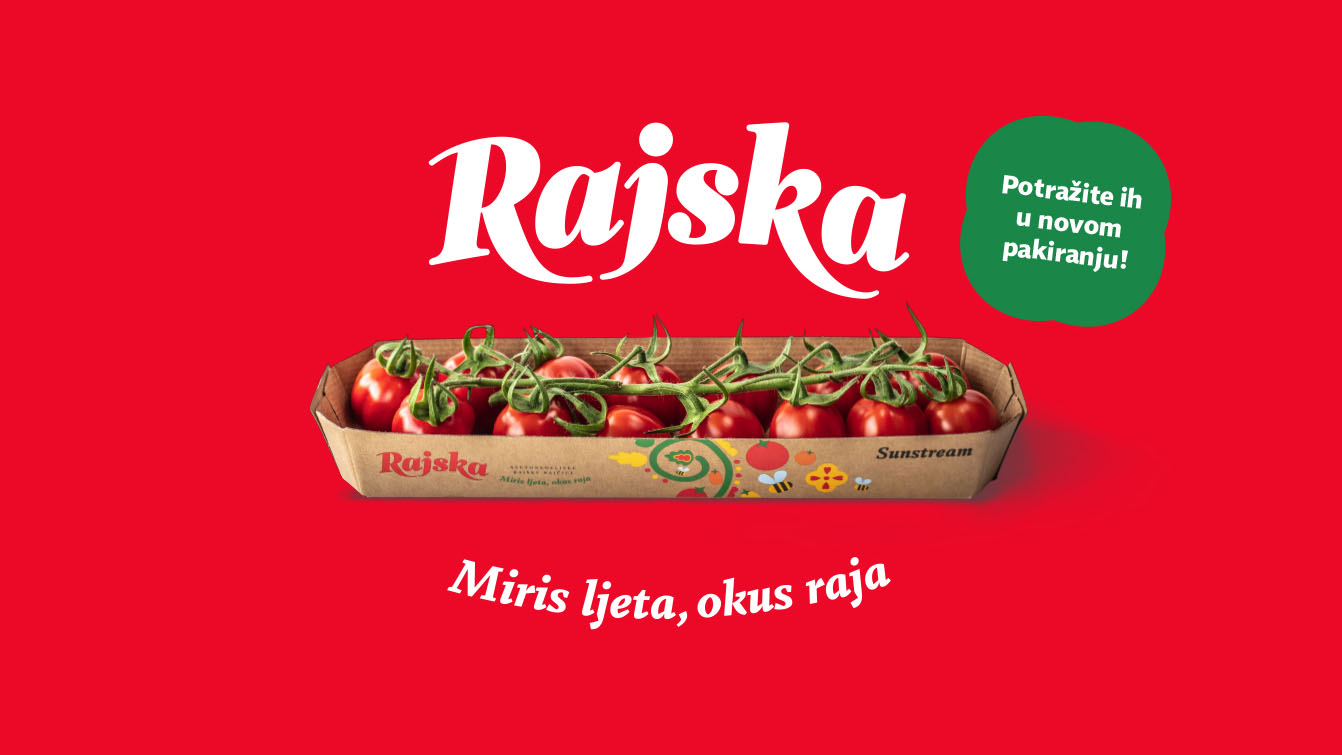 Brand Strategy & Creative Director: Anja Bauer
Senior Brand Consultant: Petra Despot Domljanović
Brand Consultant: Stipan Rimac
Name Consultant: Anja Bauer
Copywriters: Anja Bauer, Stipan Rimac
Brand Implementor: Jelena Mezga
Art Directors: Siniša Sudar, Nikola Vukalović
Designers: Nikola Vukalović, Grgo Petrov
Photographer: Maja Danica Pečanić
Web design & production: Bornfight