Back
Melegran
The Melegran is a new stylish boutique hotel that has opened its doors in the old center of Rovinj and for which we've created a brand story, brand name and visual identity.
Our brand strategy has successfully united the story of the owners (who have traveled across the globe and have resided in the most charming hotels) with the global hospitality trends, the unique features of Rovinj and aspirations of the target audience.
A big challenge was to come up with something unique since our target audience travels all over the world, looking for a unique story, feeling and experience, regardless of the distance, they don't care if they are on the plane for two or five hours.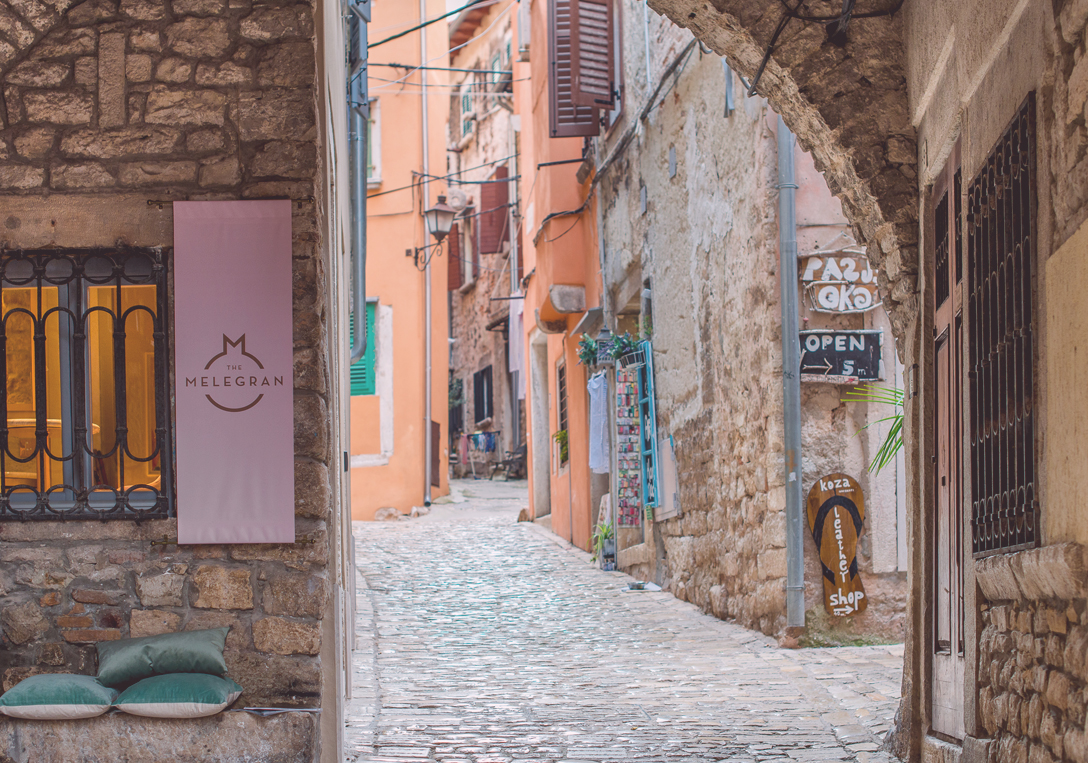 The Melegran is a place of relaxation, stripped of negativity, filled with new food, wine, and visual experiences; it represents moments of tranquility, opening up to the world, and escaping the daily routine. It invites the awakening, inviting guests to express themselves. For this reason, typewriters  are everywhere for those sudden bursts of inspiration.
Based on the brand story we have created the name — The Melegran — meaning pomegranate in the dialect of northwestern Istria, which is also the symbol of Rovinj. Therefore, the name relates to the meaning of juicy and refreshing, "of Rovinj", while that same feeling is projected through the visual identity, created by the art director Maja Bagić Barić, and through the interior, work of the Studio Geci.
Logo is a stylised pomegranate and a letter M, while it also looks like a jewel in a ring that speaks volumes about love of the owners who have wed in Istria, thus promising us a sublime experience. Thus, we are faced with a pleasant, minimalistic and elegant logo, completed with a series of illustrations of refreshing sea motives and visuals of Rovinj. Gentle colours contrasted with illustrations of intense coral pomegranate creates a succulent feeling, both peaceful and awakening.
All these emotions are also summed up in the slogan — Sunny Istrian Reverie.
Brand Strategy & Creative Director: Anja Bauer
Senior Brand Consultant: Petra Despot Domljanović
Brand Consultant: Stipan Rimac
Naming Consultant & Copywriter: Anja Bauer
Brand Implementor: Jelena Mezga
Art Director / Designer: Maja Bagić Barić
Interior design: Studio Geci