Natrag
MacJack
Kreirali smo brand strategiju, ime i vizualni identitet nove aplikacije za mobilno plaćanje na samoposlužnim aparatima. Riječ je o naprednoj platformi koja omogućuje jednostavnije beskontaktno plaćanje na vending mašinama diljem svijeta, ali i na nizu drugih "self-service" prodajnih mjesta poput parkinga, praonica za rublje ili photo-boothova.
Dva ključna benefita aplikacije – jednostavnost plaćanja i nagrađivanje prilikom kupnje – pretvorili smo u zabavnu brand priču s kojom se svi možemo poistovjetiti. Naša nova priča slavi male svakodnevne pobjede koje čini život, poput pauze za kavu nakon napornog sastanka ili pranja rublja srijedom navečer.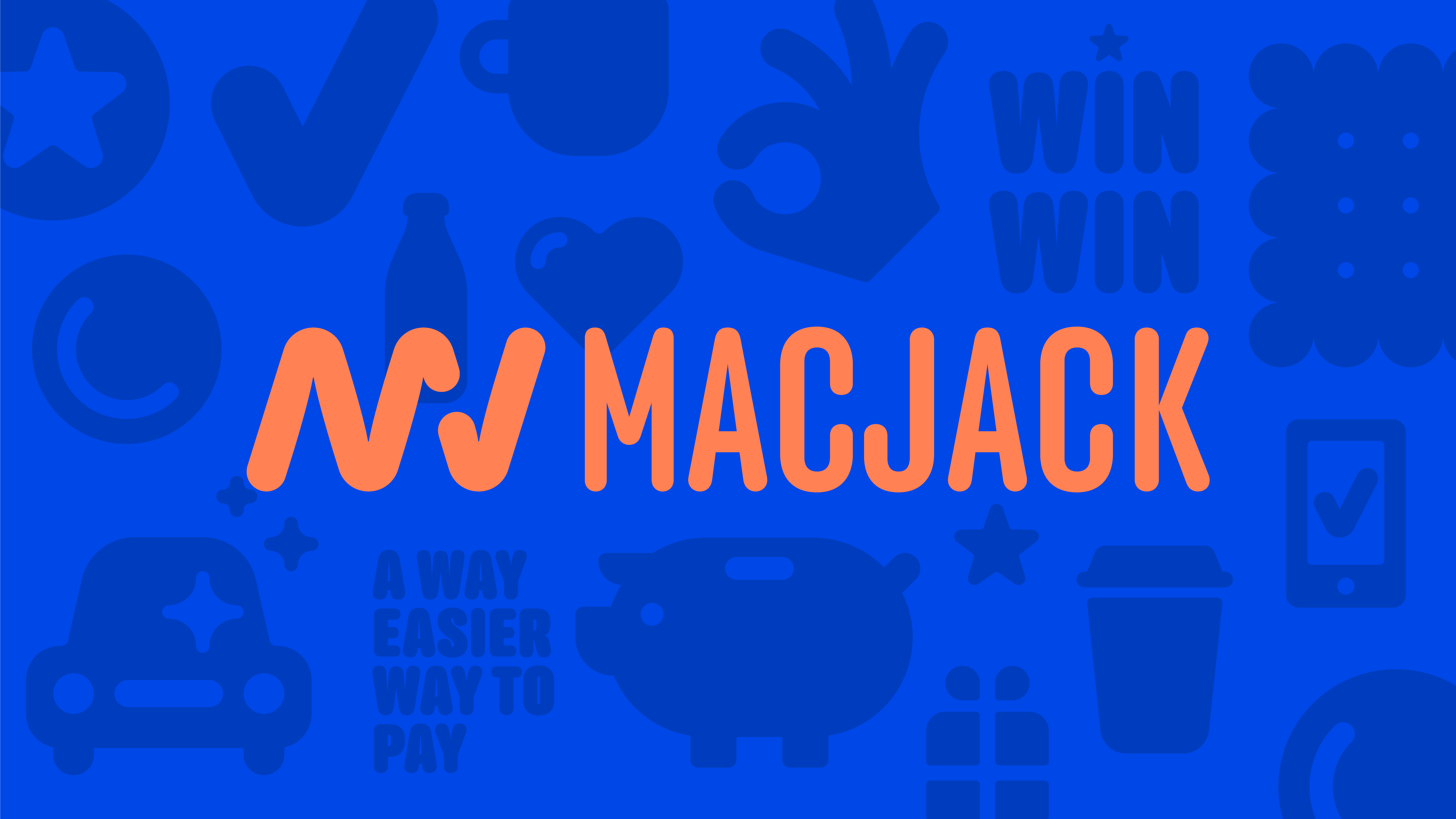 "Small wins are not huge wins, they are wins that make us content and appreciative of the smaller things in life. They make life better.
Monday mornings are not as exciting as Friday evenings. But what of all the days in between?! All that time before and after Friday evening is filled with errands that need to be done.
Whether it's going to the gym and afterwards coming to the vending machine for a quick pick me up, taking a quick photo at the photo booth for the upcoming overseas trip, washing your car on a cold Thursday evening, or doing your laundry on a sleepy Wednesday afternoon.
Accomplishing these daily tasks is a small win. Literally, they are things that make up an average day. Our brand makes people's lives better, simpler, and easier by rewarding them points each time they pay through our app after performing one of these everyday tasks.
Well, that's what life is made of. These small everyday wins. A small win is not a huge win, but that's what life's about, the rest is Hollywood."
Novi brand nazvali smo MacJack, mac je prijatelj koji ti je uvijek pri ruci, dok je jack američki slang za novac, ali i "cool" osoba koja živi ispunjen život. Osmislili smo i novi slogan branda "Small Daily Wins", kao i niz poruka koje na zaigran način komuniciraju benefite branda poput "A way easier way to pay", "Small wins make life better" ili "Lose the coins. Earn rewards. Either way, you win!".
Moderan i prepoznatljiv znak inspiriran je slovima M i J. Pritom, slovo J podsjeća i na simbol kvačice ("check"), što upućuje na obavljenu radnju i malu svakodnevnu pobjedu. Tipografija je suvremena i elegantna, što upućuje na financijsku sigurnost, ali i stvara osjećaj tehnološki naprednog branda koji čini plaćanja jednostavnijima i bržima. Boje su žarke i vibrantne te, uz znak "check" i ikone, doprinose osjećaju živosti i vedrine koji MacJack unosi u svakodnevne radnje.
Brand Strategy & Creative Director: Anja Bauer
Senior Brand Consultant: Petra Despot Domljanović
Brand Consultant: Maja Đaković
Naming Consultant: Anja Bauer
Copywriter: Anja Bauer
Senior Brand Implementor: Jelena Mezga
Art Director, Designer: Damir Mazinjanin
Illustrator: Damir Mazinjanin