Back
Omnizon Networks
Omnizon Networks, one of the leading EDI providers in Southeastern Europe, wanted to expand their business in the Austrian and German markets. Over the years they developed one of the best EDI software solutions, yet their corporate image remained weak and irrelevant. Their visual identity was outdated and their former name Redok did not mean anything to the target group.
The new brand strategy draws its inspiration from the character of the company's founder, who completed the Ironman Triathlon and has a 'nothing is impossible' attitude. The brand foundations revolve around conveying the feelings of being in the zone, strength, and omnipotence, thus the firm has been rebranded as Omnizon Networks, with the slogan "Mission Possible". The brand promises to save time and money, and make each client's business and employees more productive. The visual identity plays on the feeling of an omnipresent, omnipotent company offering fast and strong solutions. Omnizon Networks makes the impossible possible, after all.
Art director Maja Bagić Barić created Omnizon's new visual identity. The new logo is modern and minimalist in its design in order to communicate the brand's key attributes faster and more easily. The logo consists of a typographical solution in which parts of the letters are separated from the structure and shown in a different color. We use the effect of a dotted line in order to associate the logo with speed and movement. Additionally, the color blue communicates the brand's safety, which has proven to be an important factor for consumers.
As part of the visual identity, a series of simple infographics and illustrations have been developed that aid in explaining Omnizon's technology and services, making the brand easier to understand.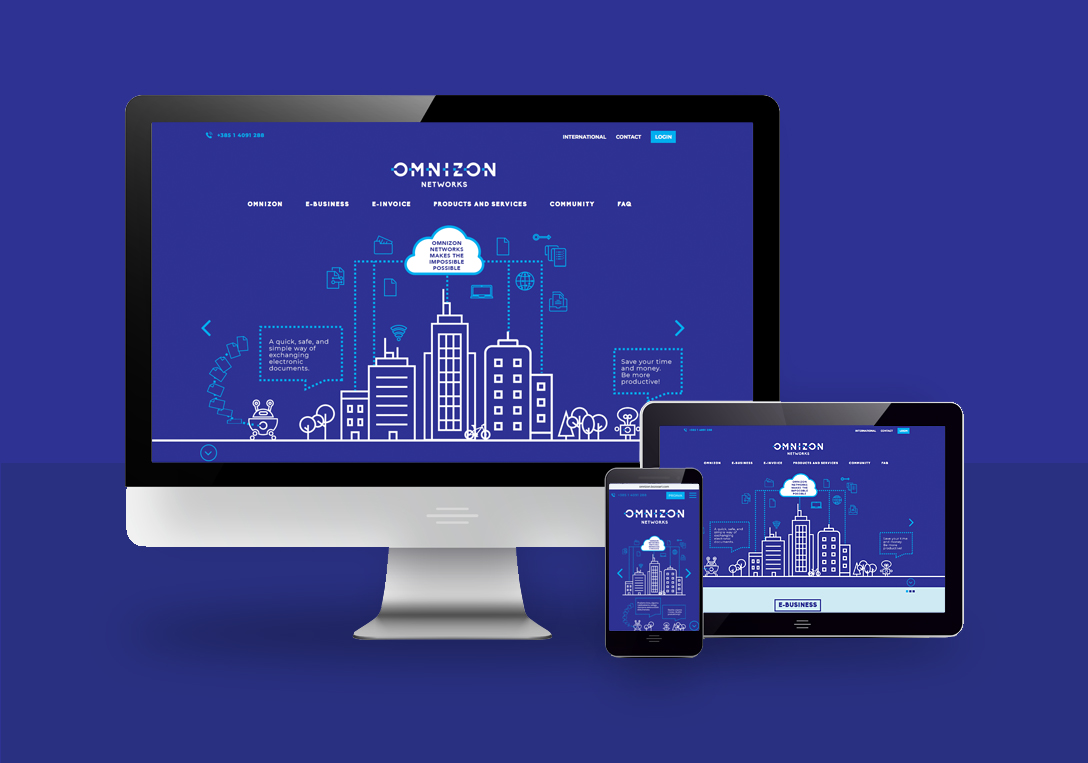 Brand Strategy & Creative Director: Anja Bauer
Naming Consultant / Copywriter: Anja Bauer
Senior Brand Consultant: Petra Despot Domljanović
Brand Consultant: Stipan Rimac
Senior Brand Implementor: Jelena Mezga
Art Director / Designer / Illustration: Maja Bagić Barić
Designers: Goga Golik, Martina Marinić Kadić