Back
MojPosao
We rebranded and created a 360° creative campaign for MojPosao, a brand that for 20 years has been the first and remains the leading choice for job hunting and career development in Croatia. Due to numerous changes in the labor market, MojPosao wanted to strengthen its leadership position, its verbal and visual identity.
We conducted extensive research and a series of interviews with employers, employees and those seeking employment. MojPosao was synonymous with "leading job site" and "greatest reach", however, its brand lacked a stronger and more relevant emotion. We observed that changing jobs is the beginning for a number of other changes that make one's life happier and more fulfilling. We then came up with the phrase "Click to Change for the Better" . The phrase is a play on words, while also highlighting the key functionality of the MojPosao portal. We made this phrase the brand's new slogan and the backbone of the brand story.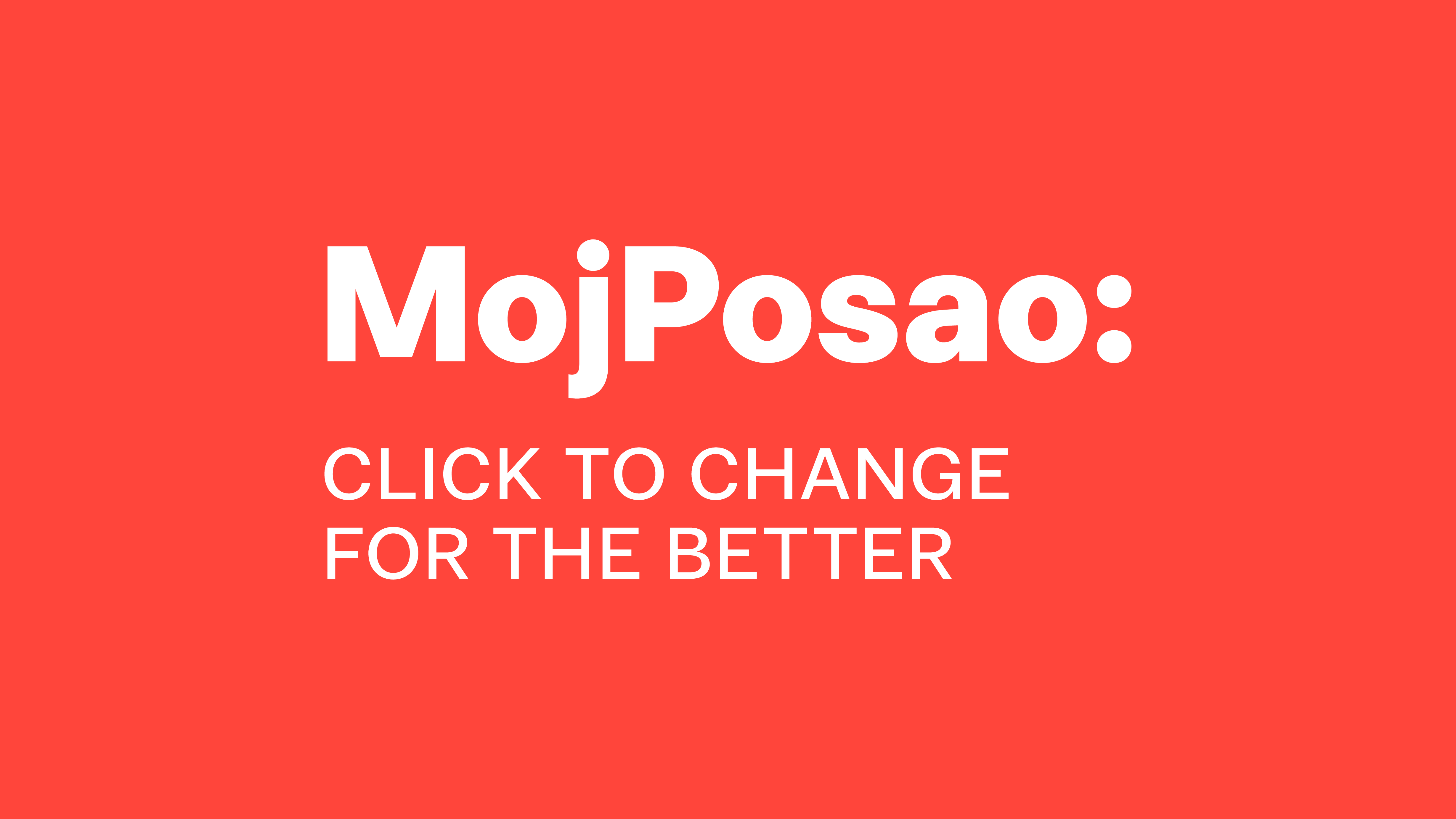 "There are people who only complain and don't want to change anything in their lives. There are those who do everything to change their lives for the better and always expect more. There are those who want to do something, but just prefer to do nothing. And there are those who have high goals and want to achieve them. Regardless of the group, MojPosao has the job you are looking for.
When you want a change for the better, come to MojPosao. When you want to earn more money, come to MojPosao. Come to MojPosao when you think you can do more, when you think you deserve more. Come to MojPosao when your job no longer makes you happy, fulfilled or rewarded. Come to MojPosao when you want a new challenge. Regardless of the reason for your visit, MojPosao will always offer you options.
People want more in life, they want a change that will offer them more money, more recognition, more challenges. We are the change that starts the wave of important changes. MojPosao offers the widest selection of jobs to change your life for the better. MojPosao has your job, just click. Click to change for the better."
Based on the brand strategy we created an ingenious, vibrant and contemporary visual identity. The logo is a typographic solution with an intervention in the form of a colon because it symbolically invites users to a dialogue followed by their change. In addition to the main colors of red and white, new secondary colors have been introduced that give the brand a sense of dynamism, cheerfulness, optimism and intrigue.
Our complete national campaign represents the rebranding. The core of the campaign is a series of original messages and illustrations that intriguingly invite candidates to change jobs. The common denominator of each message is "Come to MojPosao", and each message has an imaginative and playful way to describe the situations in which many candidates have found themselves: "Come to MojPosao when your job is unbearably boring.", "Come to MojPosao when your job is awful" or "When you are the only one of all your friends who doesn't have a job, come to MojPosao".
With the new rebranding and campaign, MojPosao is no longer just a synonym for Croatia's "leading job site", but acquires a much stronger and more relevant meaning – MojPosao motivates people to fulfill their potential and initiate change for the better.
Brand Strategy & Creative Director: Anja Bauer
Senior Brand Consultant: Petra Despot Domljanović
Brand Consultant: Maja Đaković
Copywriter: Anja Bauer, Thomas Bauer, Domenika Lešina
Senior Brand Implementor: Jelena Mezga
Art Director: Siniša Sudar
Senior Graphic Designer / Illustrator: Hana Vrca
Junior Graphic Designer: Erik Burić
UI / UX Designer: Roberta Stanić
Account Manager: Tibor Jeličić Szorsen